موقف القران الكريم والسنة النبوية من الزراعة
Importance of agriculture according to Quran and hadith of holy Prophet (S.A.W)
Abstract
Agriculture has top priority in islam.in Quran there are numbers of verses relating to water and plants. According to hadith agriculture is very important. Because number of hadith exist about agriculture. In Quran Al-Mighty Allah has taught about the role of water in irrigation. In this article author has explained the importance of agriculture in the light of Quran and hadith with example. Author of this article has explained in detail about the renounced scholars of Arabic literature and their masterpiece.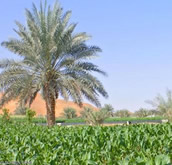 Downloads
How to Cite
Haris Saleem, haris, & Prof. Dr. Ahmad Jaafri. (2022). موقف القران الكريم والسنة النبوية من الزراعة: Importance of agriculture according to Quran and hadith of holy Prophet (S.A.W). AL MISBAH RESEARCH JOURNAL, 2(01), 45–60. https://doi.org/10.5281/zenodo.6451663
License
Copyright (c) 2022 Dr. Hafiz Haris Saleem, Prof. Dr. Ahmad Jaafri
This work is licensed under a Creative Commons Attribution 4.0 International License.
AL-MISBAH Research Journal is full open access and licensed under Creative Commons Attribution 4.0 International License; and Published by: Research Institute of Culture & Ideology (REINCI), Islamabad, Pakistan. This allows the research community and the general public to gain unlimited, free and immediate access to scholarly articles, and to reuse the content freely provided that proper attribution is given to the original authors.