AN ANALYSIS OF WOMEN RIGHTS IN PAKISTAN AND HUMAN RIGHTS IN ISLAM
Abstract
Human rights also called as basic freedoms are essential ethical standards, values and basic privileges to which each man or woman is permitted just on the grounds that he or she is social animal, safeguarded by regulation. So, he or she is relevant all over, without fail and to each individual notwithstanding of anything beginning, identity and sprint an individual has a place with. This research is aimed at exploring the intercultural concerns confronted by learners in Pakistan while they get an opportunity to study in a foreign country. Subjective methodology was utilized in the prevailing research wherein semi-organized interviews were taken and specifically investigated. This research examines that the Pakistani learners confronted a great deal of intercultural issues when they got an opportunity to study in foreign countries. For instance, confronting or coping with the issues in speaking with the instructors and pupils who possessed diverse social foundation. This research likewise discovered that when Pakistani learners involved their indigenous language on the varsity premises or study hall, it was misjudged by different pupils. Pakistani learners likewise utilized non-verbal correspondence as per requirement. Also, this research proposed that increasing or rising intercultural skill was vital for Pakistani learners who need to travel to another country for the learning objective.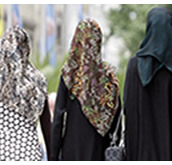 Downloads
How to Cite
Aziza Ali, aziza, and javeria Javeria Allah Ditta. 2022. "AN ANALYSIS OF WOMEN RIGHTS IN PAKISTAN AND HUMAN RIGHTS IN ISLAM". AL MISBAH RESEARCH JOURNAL 2 (01):1-16. https://doi.org/10.5281/zenodo.6422874.
License
Copyright (c) 2022 Aziza Ali, Javeria Allah Ditta
This work is licensed under a Creative Commons Attribution 4.0 International License.
AL-MISBAH Research Journal is full open access and licensed under Creative Commons Attribution 4.0 International License; and Published by: Research Institute of Culture & Ideology (REINCI), Islamabad, Pakistan. This allows the research community and the general public to gain unlimited, free and immediate access to scholarly articles, and to reuse the content freely provided that proper attribution is given to the original authors.