اسرائیل کے قیام اور زوال کے بارے میں قرآن مجیدکی پیشنگوئی
The Qur'an's prophecy about the rise and fall of Israel
Abstract
Palestine is that historical place popularly known as a land of prophets. Several prophets of Bani Israel lie buried there. It is the land that witnessed rise and fall in different eras. People in this part of the world were compelled to exile and migration many a time. A lot of bloody wars ravaged this city. This is the only land whose sanctity is claimed by all the three major world religions ie Judaism, Christianity and Islam. It is the native place of Jewish people, birth place of Jesus christ and the first worship direction for Muslims.
Ben Gurion had asserted that it was Israel where Jewish people took birth and where their philosophical, political and religious existence flourished. In the end, he enthusiastically announced that there they declare it a Jewish state.
Britain took control of Palestine after inflicting defeat on the ottoman empire. Arabs formed majority of the population at that time and jews were in minority. Most of the Jewish people settled in Palestine from the decade of 1920 to 1940 and some of them after their escape from the holocaust in Europe in the second world war.
United nations on 29 November approved the division plan bifurcating the land into two parts with Eastern one for Palestinians and the western for jews.On 14 may 1948 the western Palestine was declared an independent state of Israel. In 1950, Jerusalem was declared as the capital city of Israel. Holy Quran has prophesied the rise and fall of Israel which has been described here.
The Creator Allah Almighty has mentioned many crimes and sins of bani Israel with the purpose of warning other nations to avoid the same destiny to which the bani Israel reached ultimately due to those crimes. In this article, we have covered 31 crimes of bani Israel mentioned in Quran and Hadith.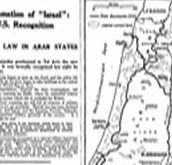 Downloads
How to Cite
Manzoor Alam, manzoor, and mfarman Muhammad Farman. 2021. "اسرائیل کے قیام اور زوال کے بارے میں قرآن مجیدکی پیشنگوئی: The Qur'an's Prophecy about the Rise and Fall of Israel". AL MISBAH RESEARCH JOURNAL 1 (01):8-23. https://doi.org/10.5281/zenodo.6420805.
License
Copyright (c) 2021 Manzoor Alam Bhutto, Muhammad Farman
This work is licensed under a Creative Commons Attribution 4.0 International License.
AL-MISBAH Research Journal is full open access and licensed under Creative Commons Attribution 4.0 International License; and Published by: Research Institute of Culture & Ideology (REINCI), Islamabad, Pakistan. This allows the research community and the general public to gain unlimited, free and immediate access to scholarly articles, and to reuse the content freely provided that proper attribution is given to the original authors.