اسلامی کتب کے تراجم تاریخ، ضرورت، مشکلات اور راہ حل
Translations of Islamic books on history, need, difficulties and solution
Abstract
Translation is an Arabic word whose literal meaning is expressed from one language to another, whereas in general reform the act of translating what is said in one language into another language is called translation. Human civilization and culture. And in the promotion of sciences and arts, the art of translation, especially religious and literary translation, is of special importance. Introducing literature has provided a way to move new ideas from one place to another.
 The basic sources of Islam, such as the Qur'an and Hadith, as well as most books on history, commentary and theology, are in Arabic, while the majority of Muslims are non-Arabs. In today's world, human relations have expanded and intensified. There has been considerable progress in the dissemination of media and publications. This is the reason why it has become necessary to get acquainted with the translation and its principles. Even the excellent and attractive translation of the Holy Quran, Hadiths, moral books and wise poems etc. can expand the scope of these teachings.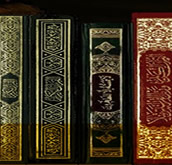 Downloads
How to Cite
Kosar Abbas, kosar, and Zakia Urooba. 2021. "اسلامی کتب کے تراجم تاریخ، ضرورت، مشکلات اور راہ حل: Translations of Islamic Books on History, Need, Difficulties and Solution". AL MISBAH RESEARCH JOURNAL 1 (01):24-33. https://doi.org/10.5281/zenodo.6422524 .
License
Copyright (c) 2021 Syed Kosar Abbas, Zakia Urooba
This work is licensed under a Creative Commons Attribution 4.0 International License.
AL-MISBAH Research Journal is full open access and licensed under Creative Commons Attribution 4.0 International License; and Published by: Research Institute of Culture & Ideology (REINCI), Islamabad, Pakistan. This allows the research community and the general public to gain unlimited, free and immediate access to scholarly articles, and to reuse the content freely provided that proper attribution is given to the original authors.